Cereal Legume Soup
No soaking needed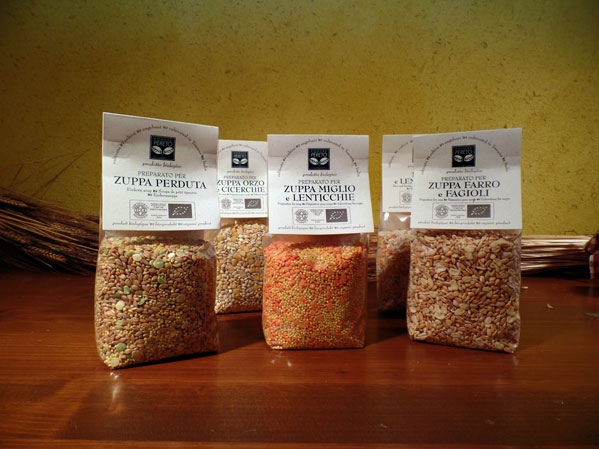 The ingredients here are cereals in grains and decorticated legumes in varying proportions.
All you need to do here is add some vegetables and spices as you wish in order to have a one-course meal.
Their cooking time is from 30 to 40 minutes. Always start off with cold water.
350 gr packages
Zuppa d'orzo (barley soup)
Barley, red lentils, millet, peas
complete, easy to digest, soothing and remineralizing.
Zuppa di farro (emmer soup)
pearled emmer, red lentils, millet
complete, invigorating, excellent for athletes
Zuppa lenticchie e miglio (lentils and millet soup)
decorticated red lentils, decorticated millet
well-balanced, easy to digest, recommended for gluten-sensitivity
Zuppa orzo e piselli (barley and peas soup)
barley, decorticated peas
well-balanced, soothing, depurative
Farro e fagioli (emmer and beans)
pearled farro and decorticated beans
complete, energizing, tonic, invigorating, especially recommended in dietary schemes where weight control is primary
Orzo e cicerchie (barley and chickling peas)
pearled barley and decorticated chickling peas
well-balanced, invigorating, recommended when there is mental and physical fatigue
Riso e lenticchie (rice and lentils)
rice, decorticated lentils, lentils
highly digestible and recommended when there is gluten-sensitivity
Zuppa perduta ("lost" soup)
monococcus farro, peas, millet
nourishing, digestible, with antioxidant properties. Recommended for athletes and students