Recovery of heritage seeds
Podere Pereto's distinctive trait is the recovery of heritage varieties of legumes and cereals which have one-course taste and nutritional value.
Currently, thanks to the PIF-BIOLEG program the farm is part of a working group with other organic farmers and operators from the Universities of Pisa and Florence all joining in the effort of enhancing biodiversity.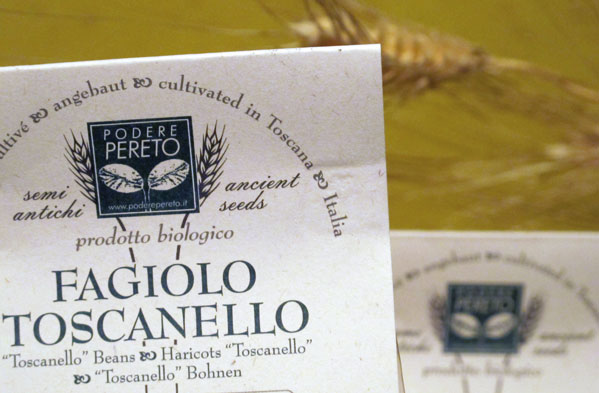 The common goal here is not just organic methods in farming but how to merge this choice with a serious high quality research, which sometimes is not a priority in the world of organic farming.
That's why we think it is highly strategic to pursue investment in preventing that certain local varieties of vegetables become endangered or disappear entirely. If we prevent this by ensuring their genetic heritage we can guarantee continuity with traditional recipe, which would otherwise be ignored for lack of ingredients.
We have often met people who thanks to heirloom varieties have found huge benefits and solutions to their dietary problems both in terms of a higher digestibility and a better taste. Specific sampling testing has assessed that the good results are connected to the nutritional value of the varieties that have been selected through the years thanks to nature and traditional farming knowledge of high quality.
Our recovery work has firstly been directed towards local sourcing (Tuscany) but we have also looked towards other regions such as Puglia for example where the Black Chickpea comes from or the north of Italy where the Marano maize comes from.
A list of our products and their main features:
Legumes
Cece piccino delle crete (small chickpea from the Crete) and Cece rugoso fiorentino (wrinkled florentine chickpea): thin skin varieties; ensures high digestibility
Cece nero (black chickpea): relevant for high content of chlorophyll
Fagiolo Zolfino (Zolfino bean) and Toscanello (Toscanello bean): very tasty, thin skin; good digestibility
Cicerchia (chickling pea): very nourishing and with a high protein content
Lenticchie variegate (mixed lentils): highly digestible and tasty
Lupini (Lupinus beans): our new entry that we are currently working on
Cereals
Farro dicocco popolazione della Garfagnana: (the word Farro has multiple translations : einkorn, spelt and emmer). This variety, native of Garfagnana, northern Tuscany, is excellent for its taste, can be easily cooked and is very digestible
Farro monococco:the oldest of our heritage cereals with surprising nutritional levels
Grano cappelli: (Cappelli grain): ideal for making pasta. Dates back to the 1900s
Grano turanicum (Turanicum grain also known as "Pharaoh's" grain): highly digestible, sweet flavour. Ideal for every day cooking
Grani teneri di antiche varieta' toscane: soft- grain heritage varieties such as Verna, Gentil Rosso, Frassineto and Sieve. These are all light and ideal for home baked bread made with sourdough
Mais Marano (Marano maize) and Pignoletto Rosso (Pignoletto Rosso maize): ideal for Polenta
Avena (oats): cereal from northern Europe. Has adapted very well to our local areas. Very nourishing
Miglio (millet): farmed since the Middle Ages. Sweet flavour and gluten-free
Orzo distico (Distico barley): known for its soothing effects