The Farm
We start off in 1993 in Serre di Rapolano, Tuscany.
The typical red brick farmhouse is surrounded by the hills that run along the charming Crete Senesi landscape.
Franco Bordoni's main goal was that of establishing an organic farm where growth, processing and sales were combined: a sustainable eco-friendly achievement with a social and economical awareness.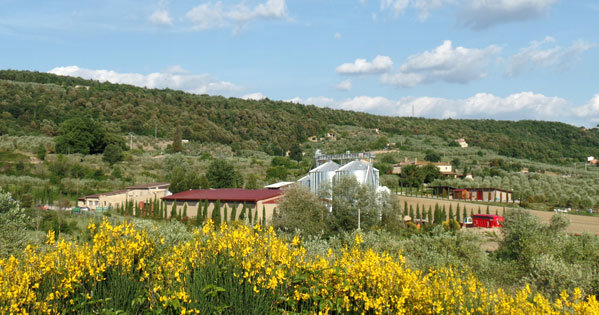 From the start our crops were chosen from local varieties and ancient heritage ones. No use of pesticides or chemicals and fertilizers.
We are granted our first ICEA certification in 1993 (ICEA Istituto per la Certificazione Etica e Ambientale - Institute for Ethical and Environmental Certification).
This acknowledges the degree of the quality of the product that Franco's wide experience, enriched by a precious apprenticeship with his father, has gained and that is shared with his collaborators in the daily practice on the farm.

There's a constant commitment and a strong relationship with traditional farming here as well as a skilled entrepreneurship.
In 1994 Podere Pereto starts off on a collaboration project with Agricoltori Custodi (literally Custodian Farmers) who promote the recovery and safeguard of ancient and heirloom seeds of the Tuscan tradition.
These are precious witnesses of a past farming knowledge that we need to protect. We are talking about varieties that are indeed very delicate and have been degraded by genetic erosion (loss of plant biodiversity).
They may be found in farms where elderly farmers have remained strongly faithful to traditional grains inherited from their ancestors so as to preserve quality, value and taste. Take for example legumes like Cece Piccino (Small Chickpea)
Toscanello and Zolfino Beans and soft-wheat grains like Verna, Gentil, Rosso, Frassineto and durum-wheat grains like Cappelli; these all adapt perfectly well to our soil and climate while keeping their nutritional features unchanged.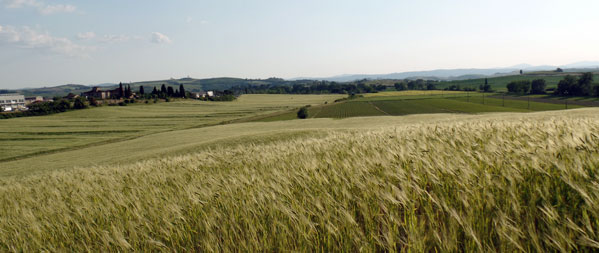 Thanks to these seeds we can introduce a three-year sowing rotation and prevent a heavy exploitation of the soil unlike intensive cultivation methods.
By rotating the crops (cereal, legumes, vegetables) we are able to acquire a steady balance of the soil and, where possible, raise its quality in order to guarantee a healthy and safe produce respectful of the environment and of consumer's health.
The farm's decisive turning point occurs in 2001 when thanks to EU funding we can build a proper farm facility with innovative and more elaborate machinery and thus enlarge the farmstead.

Years of investment and research allow us to set up an efficient short chain supply system which ensures a constant monitoring of all the phases from the husking of the seed (removal of outer covering), the pearling, the calibration and, if needed, the selection by means of an optical selector. When the final phase is completed all products are packaged in protected areas with food-grade nitrogen to ensure a longer shelf life. The result is that of an excellent artisan product (as opposed to an industrial one) with a high nutritional value and an appealing look.

After 20 years of organic farming we are currently expanding our produce.
Technology has allowed us to reach 200 acres of cultivated soil.
Our product list currently counts up to 100 items.
When we started they were 8.
We are forecasting a number of new activities; a new facility for the handling of vegetables and the complete supply chain of stoneground heirloom grains packaged in protected areas.

In 2012 with the aid again of a EU funding we became leaders in the PIF (Piano Integrato di Filiera Integrated Supply Chain Plan). The program's name is "BIOLEG: let's support organic farming". We work closely with the Universities of Pisa and Florence as well as with a number of certified local organic farms all sharing in the effort of recovering and protecting locally sourced heritage legumes and cereals.

Podere Pereto looks well ahead with a special passion for traditional pathways.
Increased profits and sales and expansion of our production range have left our initial values and concerns unchanged!